Education for the Underprivileged Sections of Society with Focus on Mentally-Challenged Students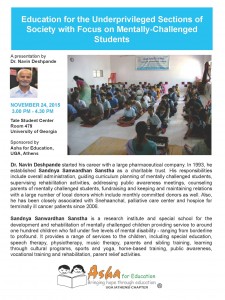 We are glad to have our beloved project partner, founder of Sandnya Sanwardhan Sanstha, Dr. Navin Deshpande with us on November 24. He will give a seminar from 3.00 PM – 4.30 PM at the Tate Student Center, Room 479 of University of Georgia.
Dr. Navin Deshpande has dedicated his life working for the mentally challenged children. After working as a medical representative with one of the leading pharmaceutical companies for about 18 years, and then managing his own offset printing business at Nagpur, India for more than 20 years, he started working for mentally challenged children. It is since 1993 that he has been involved in this voluntary initiative and took retirement from his business in the year 2008. Since then, he is totally involved in Sandnya Sanwardhan Sanstha, a purely charitable trust committed to the noble cause of mentally challenged. Sandnya is based in Nagpur, India and operates a special school established with the sole purpose of catering for those who are mentally challenged. The school provides education and training geared towards the rehabilitation of individuals with special needs. Sandnya also organizes events with schools and colleges to raise awareness about mental disabilities such as Down's Syndrome, Autism or Cerebral Palsy. Dr. Deshpande's goal is to serve this noble cause for the remaining of his life. He has extensive experience in special education, vocational training and rehabilitation of mentally challenged, in counselling of sibling and parents of mentally challenged. He has also conducted public awareness programmes on the subject of mental retardation in rural and urban areas.