Sandnya Sanwardhan Sanstha provides service to 100 children who fall under 5 levels of mental disability – ranging from borderline to profound. Profoundly retarded children need 1-on-1 attention for them to do their daily tasks (like brushing their teeth, eating, etc.). More than 13 children in SSS fall under this category.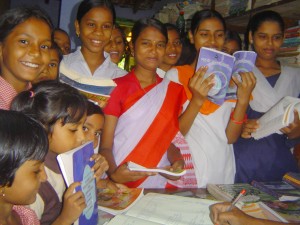 The objective behind this book bank project is to help the needy students of the area encompassing 100 km radius of this unit covering both urban and rural areas. Besides giving text books of different classes up to Higher Secondary level, other educational aids in the form of note book, school dresses, instrument boxes, bag etc. are also given to cater their educational needs. This aid is given every year to students of different classes, the total number of which exceeds well over 600 every year.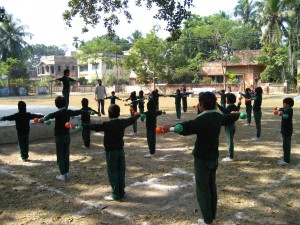 Kalyania is pledged to live up to its motto, Making Life Better, through free or almost free services to the poor directed to change their life-style from one of hopelessness to one with hope. Simultaneously, they want to provide a congenial Home for the Old and the Helpless at reasonable costs. This, they appear to have largely achieved, albeit on a small scale, cutting costs at all levels, with the active support of the senior volunteers and support from different quarters including Asha for Education.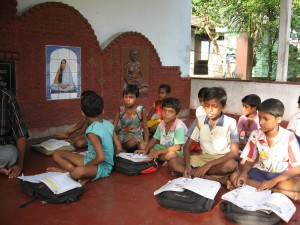 Swami Akhandanandaji Maharaj, by 40 years of his austerity and extensive service activities turned this unknown, remote village of Sargachi into a huge complex with vairied philanthropic activities. This Ashrama has been rendering its humble services to the humanity in all the above-noted sphere of activities uninterruptedly for more than one hundred years giving solace and peace to thousand of suffering people in these rural areas. The multifarious educational and cultural activities of the Sargachi center of the Ramakrishna Mission have behind them the inspiration of years of this new form of tapasya of its founder Swami Akhandanandaji Maharaj.
Orissa is one of the most economically challenged states in India. Asha for Education has been working toward improving the Government schools at Bilana, Rahania Sahi, Itagadi, Tulashipur and Kubera, five villages in Bhadrak district, a rural area 100km north of Bhubaneswar. Some of these schools have been operating since the turn of the last century. When Asha LA volunteers first visited these schools in 1993, the schools had dilapidated black boards, very few teaching aids, and only two teachers instructing all six grades. The first contribution of $800 provided for new black-boards, chairs, desks, benches, books, world maps, paper, and other basic utilities for the 560 children. The schools also faced a severe shortage of teachers and Asha funds have been used to support them.
Past Projects